Mandrel Design
& Build Services
See why for over 45 years, Aeromet's hard work, quality products, solid workmanship and unmatched service has earned the trust of many valued customers and distinguished us as "The Mandrel Drum Specialist".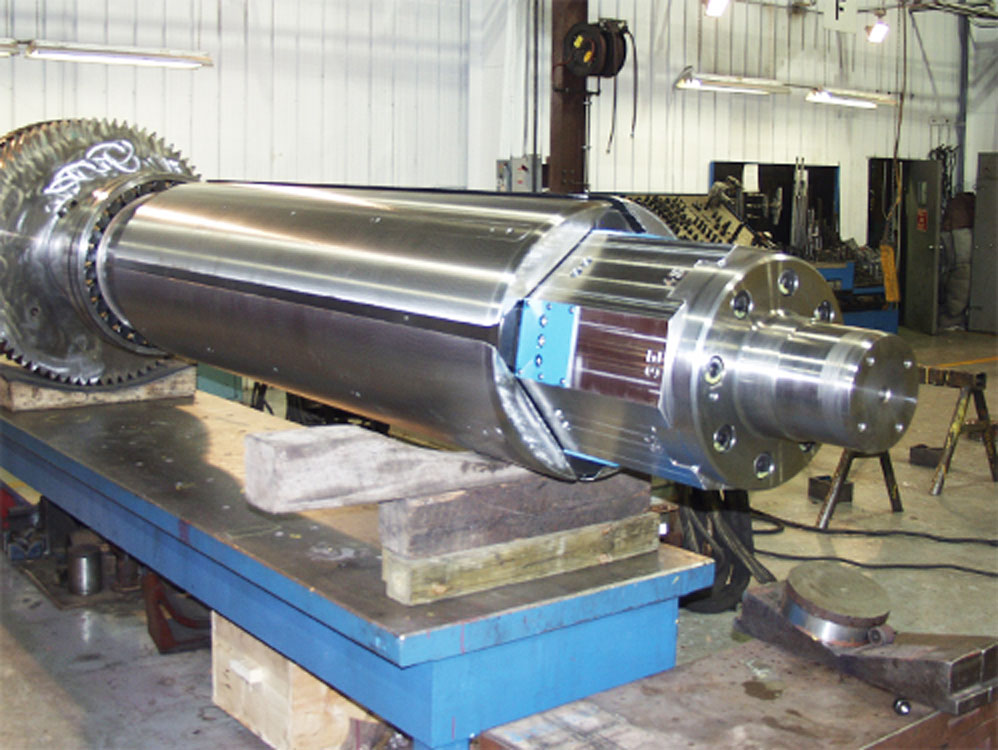 Collaborating with You to Create Solutions
You talk and we listen. Whether we're upgrading a mandrel on an aging slitting line, increasing pickling line capacity or eliminating unexpected maintenance downtime we make sure our mandrels meet your business needs. We design, build and re-build the most efficient and high-quality recoilers, uncoilers and tension reel mandrels in the industry, and the end result is a better product for your company and your customers.
Guaranteed Durable and Reliable
What makes us stand out above the rest? Aeromet mandrels are made to last. We design and build our mandrels with alloy forgings, so you can feel confident that your components are stronger and much more robust than conventional designs that use brass or bronze. Utilizing rugged materials means our mandrels will fit seamlessly into your existing processing line and provide high-quality performance, easy maintenance and years of trouble free use.
Surface Treatments Make a Difference
Just like your line of business, every process is unique. We go the extra mile to ensure that our mandrels work in sync with your operations and meet your company's needs. That's why Aeromet offers a wide range of surface treatments including Ion Nitride, Carbide Coating and Chrome Plating. Whether your process requires a tough and wear-resistant surface, a smooth and polished look or a rough and durable outer shell, we've got you (and your mandrels) covered.
Working with You and Your Mill Builder
Are you purchasing a complete new slitting, pickling, cold mill or other processing line? Remember how important the right mandrel drum can be to your process performance. Be sure to ask your mill builder to incorporate an Aeromet Mandrel, since the very best equipment results in the very best product. Our team of mandrel experts will work closely with your mill builder to design and build the optimal mandrel for your new system.
Uncoiler

Aeromet works closely with our customers to produce/rebuild/repair uncoilers that meet exactly what you need. Rugged and durable construction allows for heavier coils. This construction means less down time and more time operating. Our uncoilers are built to withstand heavy gauge material day in and day out. It is important to reduce coil changeover time, doing so can maximize productivity. When looking to purchase an uncoiler, look to the best. Every uncoiler is built to suit your gearbox and application. Aeromet has featured two lines of uncoilers the Standard and the Ultra to meet your needs.

Recoiler

Typically, the last piece of equipment your coils touch before it reaches your customer. An Aeromet Recoiler is designed to be the most effective for your application. From the lightest coils to 90,000lb coil capacity an Aeromet Recoiler will suit your needs. Aeromet features two lines of Recoilers the Standard and the Ultra to meet your needs.

Click Here to Learn More
Click Here to Learn More

Tension Mandrel

Over the past years Aeromet has been working hard to design and develop a mandrel that surpasses all other tension mandrels like it. With unparalleled grip strength and the ability to grip and spin up immediately, the Aeromet Stick and Run Tension Mandrels are in a class of their own. Our mandrels reduce coil tail angle which reduces the coil thumper (coil hump) and coil waste.

Stub Uncoiler

Every good tension line starts with a sturdy uncoiler. Aeromet's Stub Uncoilers are among the best. Typically combined with a line that has a Tension Mandrel, our Stub Uncoiler provides support for heavier coils which means more time on the line and less time swapping out the coil rolls. Aeromet's stub uncoiler is designed with two smaller uncoilers facing one another. The Duel Stub Uncoiler is designed to open up for easy coil swap out.

Click Here to Learn More
Click Here to Learn More
Product Application

Metal processing Mandrels
Cold Mill Mandrels
Slitting Line Mandrels

Stick and Run Mandrels
Uncoiler
Closed Faced Recoiler

Featured Components

Wear Plates
Internal Stops
Compensating Gripper

Materials Used

Pre Hard Alloy Steels
Mild Steel
Cast Steel

Stick and Run Mandrels
Uncoiler
Closed Faced Recoiler

Surface Treatments Available

Ion Nitriding (0.015 Depth)
Tungsten Carbide Coating
Chrome Plating

Surface hardness
CASE STUDIES
Aeromet Industries, Inc was approached by a client in the steel producing industry to design and manufacture a mandrel drum that was capable of tremendous gripping power and a simplistic design for ease of maintenance and longevity.